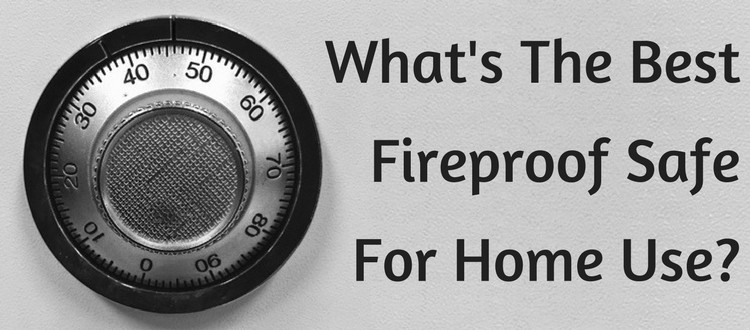 We all have those precious items and cherished memories which we want to keep forever, and a fireproof safe is perhaps one of the best ways to guarantee it.
Whether it's money, a passport, your property deeds, birth certificates, photographs, jewellery, data backups, or any number of things, there is nothing better for your peace of mind than keeping it under lock and key.
A normal safe will only protect those items from someone stealing or 'borrowing' your stuff, and to keep all of your things together in one place so you don't lose them.
To actually keep them safe were your home to catch fire, then you'd need a fireproof and waterproof safe.
Choosing the Right Fireproof Safe
When you want to stop your valuables from catching fire, it's about more than just simply keeping them out of the fire. You also need to keep them cool to prevent degradation and at the right moisture level.
That's made trickier because different types of media degrade at different temperatures and humidity levels. With paper, it will survive up until it reaches 177°C, digital media to 120°C, and film to just 66°C.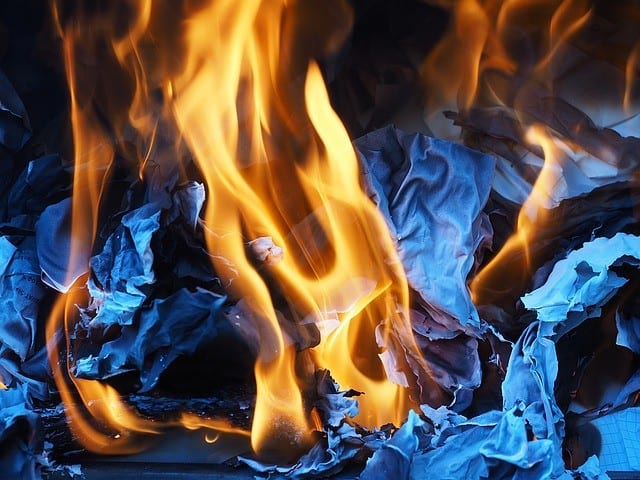 So what you plan to put inside your fireproof safe should heavily influence your decision. Choosing a basic one which will protect paper documents could result in the loss of irreplaceable data on a memory stick.
The way in which a safe is designed, and the materials used within it, all work in combination to keep the contents in their ideal conditions for as long as possible during a fire. Plus, a fire and smoke seal is created around the lid in the immense heat of a fire to protect what's inside thanks to the intumescent materials.
And bear in mind that a waterproof safe isn't just to keep the contents safe from flood water, but also from leaks, sprinklers, extinguishers, and hoses.
Finally, pick one which is large enough to contain everything you want to keep safe. Are you just going to be storing a few documents and a memory stick, or are you protecting an A4 folder full of papers, along with your camera and hard drive?
The Master Lock Fire Chests
With three different sizes available, you'll have no trouble finding the right one to fit in everything which you want to protect.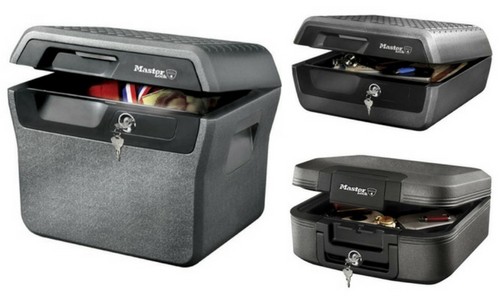 They are capable of keeping your valuables safe in the event of a fire for either thirty minute or sixty minute in temperatures of at least 843°C whilst remaining fireproof for twenty-four hours when fully engulfed.
That makes them ideal for locking up documents, photographs, CDs, storage devices, and small electronics. And with a lock and two keys, they're all kept safe from theft.
As well as coming with a two-year manufacturer's warranty, Master Lock will also replace their fireproof safes in the event of a fire so you can continue protecting your valuables.
Other Fireproof Safes
There are also other fire- and waterproof safes available, which may well better suit your needs. Some use keys to keep them locked, and others use digital keypads, which are handy if numerous people need access.
Safes of different sizes — bigger and smaller — exist, and they can have shelves so you can also keep the contents organised as well as safe. And for when you're on the move, a car laptop safe works in the same way, and using a cable anchor makes it practically impossible to remove from the car without your knowledge.
So when looking for cost-effective ways of keeping your invaluable possessions safe, remember to consider everything you may want to keep inside. That way, you can choose a fireproof safe which will not only fit it all in, but will contain it all in the optimum environment.