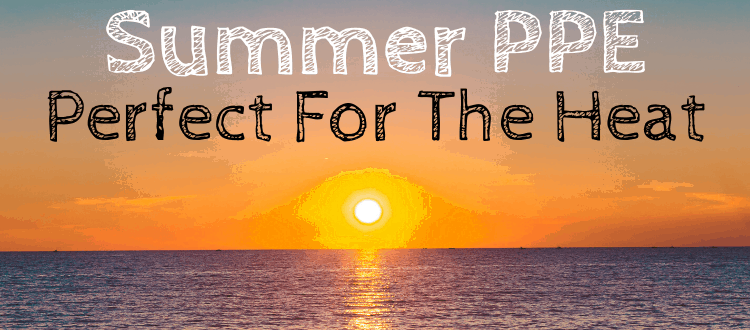 When the weather outside is roasting, all you want to do is strip off and enjoy a cool breeze, but when you're working on site that just isn't possible, so you need to ensure you have summer PPE. It's essential that the clothing you wear is going to protect you, but it's even more important that it's comfortable so you're actually wearing it in the first place.
It's important you dress for the weather and the job at hand.
Keeps You Cool And Protected From The Sun
When you're working on site, the primary aim is always to ensure you're safe. This is why you're often required to wear high visibility clothing as it means you'll be visible in all lighting conditions, whether it's bright sunshine or in the middle of a classic summer downpour.
The hi-vis clothing you purchase should be compliant with EN ISO 40781 as a minimum, and if you're working in the rail or underground industries, RIS 3279-TOM also. This means the reflective tape is effective but also guarantees they're positioned correctly on the clothing.
From there, the clothing should be suitable for you, the conditions you work in, and the job you're doing. You won't want to be wearing a heavy-duty jacket in 35°C heat and you do not want it restricting your movement.
Assuming the site you're on allows it, polo shirts, t-shirts and shorts are all available. The loose clothing is designed to provide cooling airflow around the body, with moisture-wicking abilities to keep the sweat away too. Our range of summer PPE also has UPF (Ultraviolet Protection Factor) ratings, meaning they block UV rays so you don't become sunburnt through your clothing when out in the sun all day long.
Of course, hi-vis vests are ideal for wearing over ordinary work clothing, whilst still complying with site regulations. And because they're lightweight, they're ideal for the hot summer.

Don't Forget Your Hat And Glasses
When you're on site, you're likely to require a hard hat or fall protection. While some safety helmets can become like a furnace in the sun, choosing a vented option allows for refreshing airflow so hot air can escape. Additionally, they can feature sweatbands which prevent sweat from running down your head, as well as providing a little extra comfort. Knee caps are a worthwhile investment, protecting your knees from damage from rough surfaces
If you don't require a hard hat, but still want head protection, then hard caps are a lighter alternative which look just like a baseball cap. With a peak to keep the sun out of your eyes, these too allow the flow of air.
Safety glasses will also be required when carrying out certain tasks on site, whether it's simply to prevent dust from getting into your eyes or to provide protection against other risks. There are different lens options offering different protection options, such as those which are smoke-tinted for solar protection for reducing solar glare so you can better see what you're doing and yellow for ultraviolet filtering. Many safety glasses and goggles are also vented to allow airflow and have an anti-mist coating.
Of course, our one provision for preparing for a British summer working outdoors is to always ensure you keep your warmer, waterproof clothing close by as cooler temperatures and rain are never too far away…