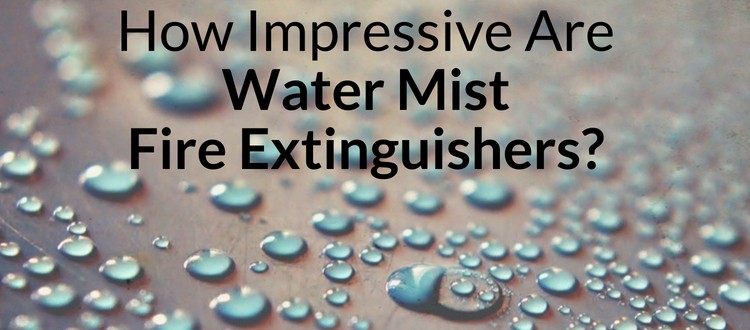 Water mist fire extinguishers are becoming a good choice of multi-purpose fire extinguisher, as they're much safer and more environmentally-friendly than a powder and have impressive fire ratings.
We're taught early on at school that water is unsafe with electricity and doesn't mix well with oil either, and as such, if you were to spray a water fire extinguisher on electrics, you'd risk electrocution, and the volatile reaction with an oil fire would cause the flames to spread.
That's where water mist fire extinguishers differ. Designed to tackle most classes of fire quickly and efficiently, they feature clever innovations which create a fine water spray in order to be the ultimate extinguishant.
It's the old-faithful way of putting out a fire with water, but with a new twist.
Which Fires Can A Water Mist Extinguisher Be Used On?
Being a water extinguisher, it's suitable for Class A fires involving woods, paper, cloths and other general combustible materials. With a special nozzle, water mist fire extinguishers are safe if inadvertently sprayed on live electrical equipment to prevent electrocution, although they're not designed to use on electrical fires, as the tiny droplets cannot conduct a current.
With the nozzle creating such a fine mist which gently falls on the affected area, it's also ideal for Class F fires involving cooking fats and oils, with some water mists also safe for use on Class B fires involving flammable liquids. This cools the fuel source and reduces the oxygen which the flames would need to carry on burning and prevents it reigniting.
Suitable for a small kitchen and clean areas including hospitals, the water mist canisters are filled with de-mineralised water which means they leave no residue. Plus, they cause no water damage which means they're ideal for libraries and historic buildings to reduce the impact of a fire and the collateral damage of extinguishing it.
How To Use A Water Mist Extinguisher
Often referred to as a dry water mist, the most popular choices are manufactured by Jactone and Jewel. Use as you would most other fire extinguishers by aiming for the base of the flames where the fuel source is.
The extinguisher produces a mist curtain which cools and cuts off the supply of oxygen, with droplets so small they have no adverse effect. Where possible, always try to switch off electrical and other equipment before trying to tackle the flames to help reduce the risk to you.
Of course, the issue is telling the difference between a water extinguisher, water mist extinguisher, and water additive extinguisher. And it's essential to know exactly what you're using as the wrong extinguisher could have an adverse effect and make the situation worse. So take the time to understand the fire extinguishers around you, for example where you work, or take a few moments to read the label and sign for a clear indication of what it is and isn't safe to be used on.