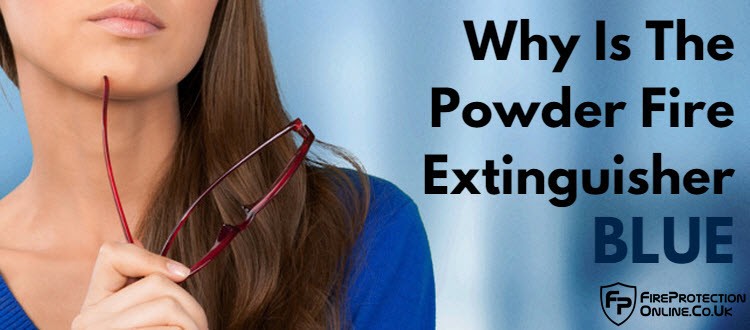 Why is the dry powder fire extinguisher colour blue? Surely it makes sense for the water extinguisher to be blue?
However, there is a specific reason for why the powder fire extinguisher is that particular colour.
Distinguishing Extinguishers
There are different types of fire extinguisher for different purposes. Therefore it is important to clearly indicate what they do. One of the easiest ways to do this is to have different colours.
In an emergency, you are unlikely to have time to carefully read all the details on a label so it is important to know enough so that when the time comes you can quickly pick up a fire extinguisher and know what it is used for.
Colour coding is part of the very strict standards that companies who manufacture fire extinguishers have to adhere to.
What Is A Powder Fire Extinguisher Used For?
Powder extinguishers are often used because they cover Class A, B and C fires.
This means you can use them on wood, paper textiles etc. as well as flammable liquids like petrol and small flammable gas fires.
It is also worth noting powder extinguishers can be used on live electrical equipment without risk of shock.
In Summary
So the basic explanation of why is the dry powder fire extinguisher blue is simple-to clearly show the difference between it and other types so it is easier to grab them in an emergency. Why they specifically chose blue, we don't know.
It is more about having a clear code as opposed to any particular reason-a consistent standard means that when you go to any working environment and they have that particular extinguisher anyone trained in using it should be able to do so.
It is important for your staff to familiarise themselves with the different types.
The more you do this, the easier it will be for them to be able to focus and pick up the right kind of extinguisher in an emergency and more importantly to be able to know how to use it and in the right way.