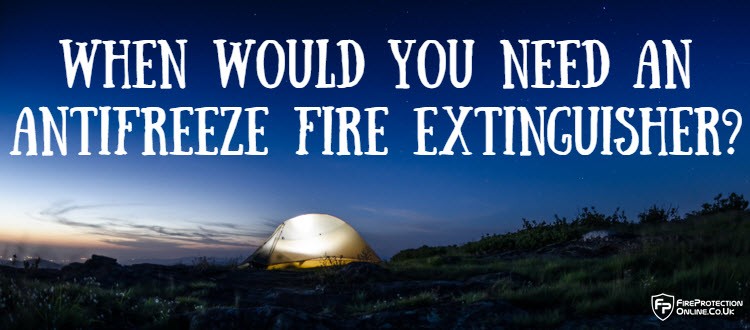 An antifreeze fire extinguisher is perfect for those of us living in cold countries. They can withstand extremely low temperatures without the contents of the canister freezing up and ensure that you're prepared to tackle a fire, whatever the weather conditions.
Beneficial Features Of Antifreeze Fire Extinguishers
It's important to remember that an extinguisher with antifreeze is suitable only for class-A fires. This means that it should only be used for paper-, cloth- and wood-like materials. Electric and fuel fires require specialised extinguishers for effective fire control.
These antifreeze extinguishers can withstand low temperatures of minus nine degrees Celsius. The extinguisher will be fully functional at this temperature, and the contents will remain unfrozen.
Areas That Can Benefit From An Antifreeze Fire Extinguisher
Generally, an extinguisher with antifreeze would be ideal for outdoor use. Here are some places you would find this type of extinguisher:
Camping sites – The presence of regular campfires and oil lamps calls for extra diligence on campsites. But outdoor locations will result in normal fire extinguishers freezing up. An antifreeze fire extinguisher is perfect for these areas. Depending on the size of a campsite, several of these extinguishers can and should be procured.
Schools, colleges and universities – Every educational institution should have at least one extinguisher with antifreeze. Outside halls and corridors must comply with basic fire protection regulations just as much as is required for indoor sections. For this reason, normal fire extinguishers are not an option.
Farm areas – With so many dry types of materials such as hay, wooden barns, barrels, etc, it's important to ensure fire protection both inside and outside. With temperatures dropping to way below freezing in winter months, an extinguisher with antifreeze is the most logical option for these areas.
Locations without heating – Even indoor facilities that don't provide heating should obtain antifreeze extinguishers. If a fire should break out within one of these buildings, there would be nothing worse than having to deal with an extinguisher that's non-functional because of frozen contents.