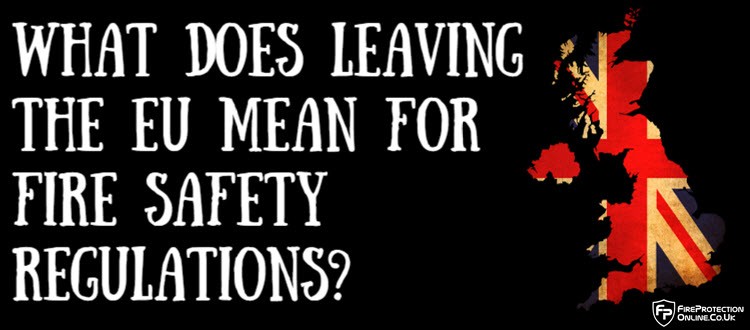 Since the United Kingdom voted to leave the European Union in June, there has been a lot of uncertainty about almost everything in our lives.
It's likely that this lack of clarity is going to continue for some time, and the true effects are likely to be unknown for many months, even years. No-one truly knows whether Brexit was a good idea or not.
So, it's hard to say for certain, at the moment, what effect it will have on fire safety regulation in the United Kingdom. Much of it will depend on the terms and conditions of Britain's exit, and what changes will come about as a result.
However, there is no foreseeable reason why regulations, in terms of fire safety, should alter in any way.
UK Regulations
The Regulatory Reform (Fire Safety) Order 2005 sets the standards for England and Wales. And likewise, the Fire Safety (Scotland) Regulations 2006, and The Fire Safety Regulations (Northern Ireland) 2010.
These are enshrined in UK legislation, and as such, have nothing to do with EU laws, regulations, legislation and directives.
In fact, the UK is one of the world leaders in terms of fire safety, and fire regulations vary greatly across all the EU Member States.
On top of that, fire safety equipment must conform to the British Standard to be legal, like many other products. So when you find the BSI Kitemark on any of your products, you know it not only meets their technical standards but has also been tested.
CE Marks are also displayed, and they show a product has been manufactured according to the defined legal requirements of the EU. These are required for products which are sold within the European Economic Area, which is something we're likely to remain a part of, and therefore won't change.
What Might Change
Just to reiterate, no-one actually knows what will change in the future. However, we may start to get an idea of what will happen once negotiations start as the UK divorces the EU.
During this process, the UK will be able to choose which EU laws, regulations, etc., they wish to keep, and what they will drop.
So it is possible then that changes may occur which could have an effect on electrical equipment and a lot more besides, although it is unlikely that our Government will act to rewind many of the positive strides the EU has taken and promoted to our health and safety over the years.
In Conclusion
At the moment, there is no reason to suspect that anything is going to change in terms of fire safety, regardless of what happens with the EU.
However, what effect any other changes will have on the industry as a whole cannot yet be foreseen.
In the meantime, it's best just to carry on as usual. Make sure your fire extinguishers are serviced as appropriate, that smoke alarms are in good working order, and that your fire risk assessment is regularly reviewed.
The one thing you can be sure of is that if there are any changes coming which will affect fire safety, we'll keep you informed.