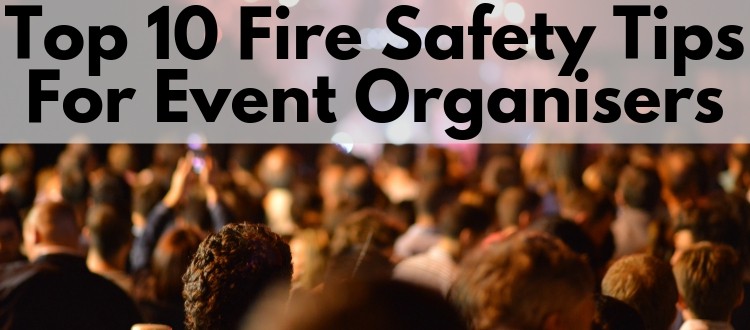 Thinking of organising an event? Then you know there are A LOT of things you need to consider to ensure the day is one which one's smoothly and is well-remembered by those who attend.
One subject which needs to be at the top of your checklist is ensuring fire safety practices are in place. Here are a few tips to help get you started. Of course, it is also essential that you check with your local licensing authority to find out any specific requirements which your event must meet.
1. Carry Out A Fire Risk Assessment
A requirement of the Regulatory Reform (Fire Safety) Order 2005, it's also the best way of understanding your business operations and their impact. Review this regularly, and for every temporary location. Consider a professional risk assessor for peace of mind.
2. Raising The Alarm
Indoors, have a fire alarm system installed which will detect fire and alert everyone, using heat detectors where smoke machines may be used. Outside and in marquees, have a fire bell, gas horn, or megaphone/PA system to instantly raise the alarm.
3. Choosing The Right Fire Extinguishers
Generally, you need one water-based extinguisher (water, water additive, or foam), three litres or more, for every 200 square metres of floor space. Additional fire extinguishers will be needed for specific dangers, such as electrical equipment.
4. Locating Fire Extinguishers
Inside, mount extinguishers on the wall. In a marquee, place them on an extinguisher stand. Outside, have extinguisher cabinets to protect them from the elements. This should also be where someone can raise the alarm from.
5. Have A Fire Action Plan
Ensure everyone knows what to do in an emergency with a plan, stating where the assembly point is – this could be a car park or nearby open space – making sure to not block the emergency services.
6. Hazard Spotting
Ensure things which could start a fire (sources of ignition) and can burn (fuel source) are kept separate. For example, keep generators away from fabrics and cardboard, and have smoking areas well away from rubbish.
7. Brief The Clients
Your fire risk assessment will state what you can and can't do, and this information must be passed to the people hiring your venue. This could be restricting the use of open flames or pyrotechnics.
8. Marquee Material
The material of any temporary structures must be inherently fire retardant. Check labels and certification for details on this and its British Standard conformity.
9. How Many People?
The number of people who can attend is limited by the size/number/location of exits. For instance, each exit with a width of 1.05 metres will accommodate up to 160 people, so three on different sides of the venue would, in theory, allow up to 480. An exit width of 1.65m allows up to 240 people, and a width of 1.95m allows up to 320 people through each door.
10. Fire Wardens and Attendants
The number of attendants also has an impact on the number of people who can be present, which is usually one for every 250. Like trained first aiders, they need to receive fire warden training and be made aware of their duties.