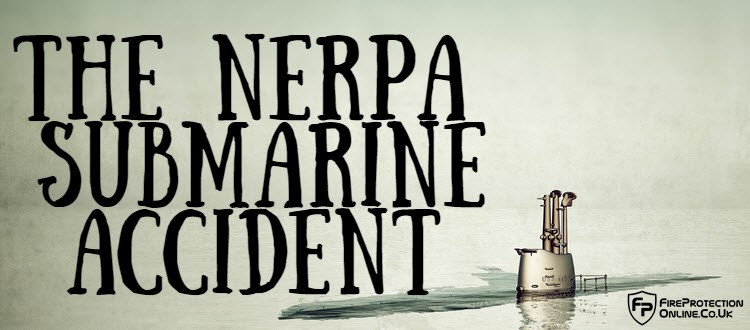 The Russian town of Vladivostok was in shock November 8th, 2008, as news emerged of an accident on board the very latest addition to the Russian fleet, the attack submarine 'Nerpa'. 20 people died and 22 were injured when the vessel's fire extinguishing system released freon gas into the front sections of the submarine. Vladimir Markin, spokesperson for Russia's Investigative Committee at the time, was quoted in the Russian Times as saying; "First forensic tests have been carried out, and their results indicate that the deaths were caused by the inhalation of Freon gas emitted by the fire extinguishing system."
Fire is a constant hazard in the confined spaces of any submarine, and the irony of the fire extinguishing system being faulty cannot be lost on the Russian authorities. The "full and meticulous" inquiry ordered by President Medvedev will no doubt look closely as to:
why the freon fire extinguishing system activated unexpectedly
why the alarms indicating that the system was active apparently failed to alert those in the danger zone
why portable breathing equipment, standard issue on Russian submarines, had not protected those affected
Many of those deaths because of the Nerpa submarine accident were civilian workers who were on board to conduct sea trials of the new submarine before it went into active service.
One of the key considerations may also be how long it has taken to build the Nerpa. Construction of the submarine began in 1991, with the whole project suspended for years due to economic conditions.
Fire Safety for Boat Owners
Now, you may not own a full-sized nuclear submarine, but your prize powerboat, yacht, barge or cruiser still requires proper fire fighting equipment. Fire Protection Online sell a wide range of automatic fire extinguishers which are ideal for engine compartments, the source of so many onboard fires.
Our automatic powder fire extinguishers self-operate when temperatures rise above 68 or 79 degrees centigrade, smothering flames with multi-purpose dry powder, and are available in weights up to an impressive 10kg.
Our FE-36 automatic fire extinguishers use a safe alternative to halon gas, to extinguish flames without mess – and without harming the environment.
Remember to invest in a fire blanket and small fire extinguisher for the galley, plus smoke detectors for the sleeping berths too.
Lessons from the Nerpa for Non-Sailors
The main lesson from the Nerpa submarine accident must be; never be complacent. If you have a fire extinguishing or fire suppressing system installed on your premises, your regular maintenance routine must include checks on the system operation alarms, as well as on the system itself.
Also, consider how any gas released during a genuine emergency will be vented after the incident, especially in confined and secure areas, such as MRI scanning rooms, etc.
For delicate machinery or enclosed spaces, such as switch rooms, engine housing and computer rooms, where a large-scale automatic system may be impractical, Fire Protection Online recommend our range of FE36 halon replacement fire extinguishers.
Even if you have non-gas systems, such as sprinklers, take time to check what's underneath them! As your business needs change, you may find you now have valuable electrical equipment under sprinklers, where an automatic fire extinguisher may be more appropriate, and less damaging in the long run!
Freon Fire Extinguishing Systems
Freon and halon gas fire extinguisher systems work by displacing the oxygen in the air around a fire, and thus preventing flame propagation. Much less gas is required to quench flames than in other suppression systems, such as those containing CO2. Halon systems have been phased out over the last five years, and the only remaining permitted uses of halon extinguishers are either for military vehicles or aviation.
Freon was initially manufactured by DuPont in the US, and is colourless, odourless, non-flammable, non-reactive and non-corrosive. Since its invention in 1930, the gas was extensively used in air conditioning and refrigeration systems. Freon is from a class of chemicals known as haloalkanes, a group which also include chlorofluorocarbons (CFCs) and Halon gas. Freon chlorofluorocarbons (CFCs) were phased out in the 1990s, due to the depletion effects on the ozone layers by these CFC gases.
Today, the term "Freon" is often used to describe generic coolant or propellant gases, be they the original CFCs or the newer replacement hydrofluorocarbons (HFCs). DuPont have not manufactured any CFCs in the developed world since 1995.