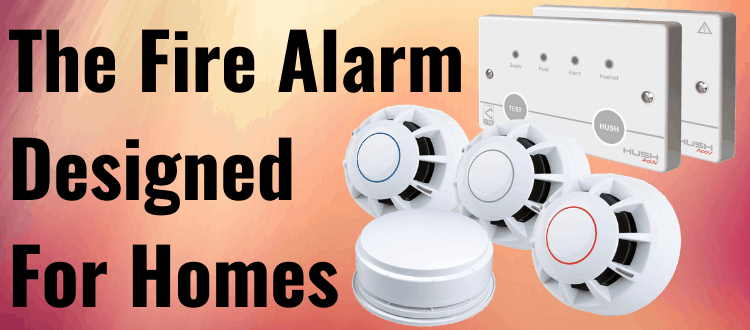 Every home should have smoke alarms throughout, and our new domestic fire alarm kit is the perfect way to upgrade your home.
All new homes built in the UK are required to have mains-powered smoke alarms with a battery back-up installed and it's also standard for landlords letting out their properties. Compliant with British Standard 5839-6, these ensure homes have reliable fire detection and warning so everything possible is done to prevent injury, death and damage caused by a fire.
Why Choose A Fire Alarm For Your Home?
Installing the Hush ActiV domestic fire alarm kit from C-TEC in your home means you have all the benefits of a standard fire alarm system without requiring the annual maintenance.
While your standard mains-powered battery smoke alarms are Grade D as according to BS 5839-6, the new alternative is Grade C-rated. The main difference is that sounders and detectors are separate units for a more precise installation, and that there is one standby battery for the whole system, rather than for individual units which are removable.
So, for example, this is the perfect choice for a landlord as residents are unable to remove batteries themselves, meaning your property and their lives are always protected. This also means there's only one battery to replace, meaning reduced lifetime ownership costs too.
Additionally, the domestic fire alarm kit uses the same wiring scheme for a hassle-free upgrade by a qualified electrician and it consumes up to 50% less mains power than a typical Grade D system.
All the units are also controlled by a single control panel which is simple to operate with four buttons. This allows you to test and hush your alarms with your feet firmly on the ground, meaning an end to standing on a chair to reach the smoke alarm on the ceiling, so anyone can do it for Equality Act compliance.
What Is Included In The Domestic Fire Alarm Kit?
The kit includes a control panel and PSU, as well as three detectors with bases and sounder. Generally, you would install the heat detector in your kitchen, the optical detector in a living room, and the multi-sensor detector in a hallway or landing along with the sounder.
Of course, if you have a larger home or want even more protection, it is easy to add more devices to your system—up to 16 detectors and 8 sounders. Most conventional fire alarm devices would be compatible with this kit, meaning you could have a mixture of optical, heat and multi-sensors, and further sounders, as well as beacons and call points.
It is also possible to incorporate two outputs and one input to integrate with third-party systems such as sprinklers and intruder alarms.