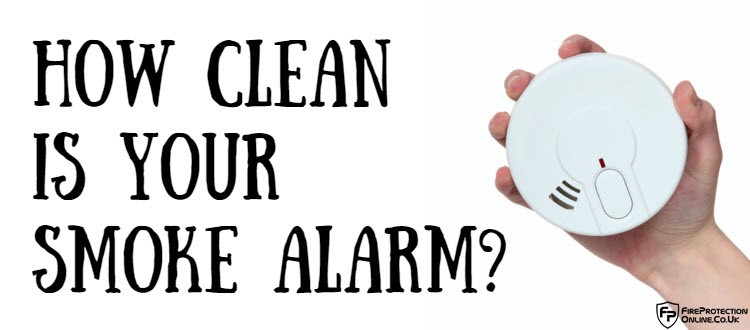 You take pride in your home and you like to keep it spick and span. But do you give your smoke alarms and detectors the same level of care? It may look clean to the eye, but there could be dust and debris hiding inside.
This can then have an effect on the functionality of the alarm, and as a result there could be a delay in the alarm activating, or it could lead to false alarms.
And in a fire, every second counts.
So by looking after your alarms and detectors, they can keep looking after you.
How Can I Clean My Smoke Alarm?
Never use water, chemicals or solvents to give them a clean as that will damage the unit.
However, wiping your smoke alarm with a dry cloth regularly will go some way towards keeping it clean. By taking dirt off the surface, you help reduce how much enters.
But it essential to clean inside as well, and an aerosol canister contains just air.
The benefit of doing this is to use compressed air. This will blow everything which shouldn't be inside, out. So it removes all the dust, cobwebs, and other contaminants safely without causing any damage.
And How Often Should I Give Them A Clean?
In normal surrounds, such as the home or office, a spring clean may be all that's needed. However, it could be good practice to give it a burst of air when you change the batteries in your alarms every six months. That way, you can be 100% sure of the functionality of the alarm.
In a particularly dusty or dirty area, such as in an industrial setting, it is essential to clean them as often as possible.
It is also dependant on the type you have. Although it is good practice to clean a heat alarm, it isn't as crucial as it is with ionisation and optical smoke alarms. For example, the latter sensor type 'sees' the smoke, so you cannot afford to have any obstructions inside.
When having building work completed, it is best to remove or cover the alarms and detectors. That will prevent them from getting damaged by residue in the first place. Just always ensure they are in good working order afterwards.
The Detector Air Duster is suitable for use with battery and mains smoke alarms, as well as with detectors on a fire alarm system.