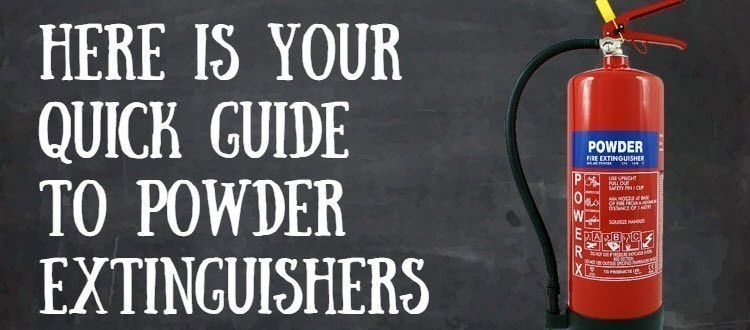 Having a fire extinguisher in your home or on your property is about more than making sure you tick health and safety boxes. It is about making sure you have the right tools to stop a fire from getting worse, preventing accidents as much as possible and aiding your escape.
Dry powder extinguishers are the most common as they protect against multiple threats and work by producing an inert solid that coats whatever is fuelling the fire. This prevents the fuel feeding on oxygen and producing fire, thus extinguishing it. Certain types of powder extinguisher are only suitable for certain types of fire so it is vital to be aware of which one is most likely to be appropriate for your home working environment.
Different types of powder extinguishers
The most common type of powder extinguisher is the multi-purpose ABC powder extinguisher. ABC means it can handle Class A fires (burning solids), Class B fires (liquid fires) and Class C fires (gas fires). They can also be used on fires caused by live electrical equipment without the risk of shock. This is the most commonly used extinguisher in homes as it can be used on so many different types of fires.
Other types of powder extinguisher include:
BC – These cover all fires except Class A. BC extinguishers are commononly used in cars
M28 – These cover most metal fires (apart from lithium)
L2 – All metal fires (this one also works on lithium!)
Monnex – The world's most powerful extinguisher powder. A potassium bicarbonate-urea based that is mainly used for liquid and gas fires. These are used more for specific high-risk industrial areas.
Special Note BS 5306-8:2012
The updated British Standard 5306-8:2012 Selection and positioning of portable fire extinguishers – Code of practice states as follows:
"5.4.3 Use of powder extinguishers: The discharge of a powder extinguisher within buildings can cause a sudden reduction of visibility and can also impair breathing, which could temporarily jeopardize escape, rescue or other emergency action. For this reason, powder extinguishers should generally not be specified for use indoors, unless mitigated by a health and safety risk assessment."
If you are not sure of the implications, please contact us any time or see our Fire Safety Survey service. Responsible extinguisher service technicians (including ours) may refuse to certify a powder extinguisher that is not suitable for the location.
Different sizes of powder extinguishers
As well as having the right kind of extinguisher you should also be sure you have the right size. For example, for a van or your home the 2kg model is popular (the additional benefit with this is that it is lighter and easier to operate).
Larger models include the 4kg, 6kg and 9kg. A 9kg model is best if you work in an industrial or outdoor environment and need to deal with potentially larger fires that need to be quickly extinguished in order to prevent further damage or get you out of harm's way.