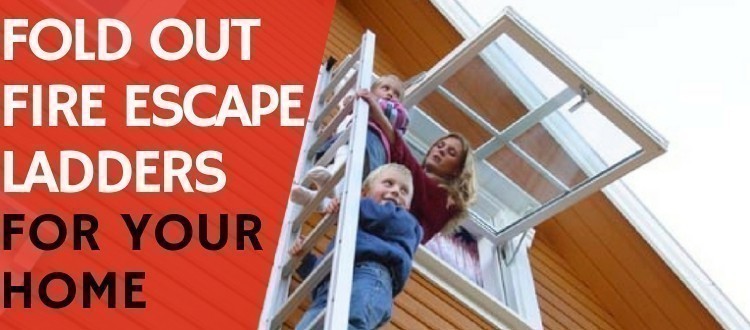 How would you escape the upstairs of your home in an emergency? The stairs are blocked by flames, and the only way out is through a window. To exit your home through a first-, second- or third-storey window, the safest method is using a fire escape ladder.
Rather than simply thinking 'It will never happen to me', prepare for the worst by getting prepared today.
The tragic events of Grenfell Tower in 2017 led to an unprecedented surge in sales of escape ladders across the market, with suppliers selling through 18 months' worth of stock in the days which followed. It made people think about what they would have done if it had been their home.
Fold Out Fire Escape Ladders
In Scandinavian countries, having fold-out escape ladders permanently fitted to the sides of their homes is actually considered the norm. And as such, they lead the way with their clever and innovative designs.
The compact design means that they fold away when not in use, and look like nothing more than a drain pipe. Installed within reach of an upper window or balcony, all the occupant need do is release a pin for the sturdy ladder to fold out and then the whole family can climb down to safety.
This provides an easy and cost-effective alternative evacuation route. Available in a variety of sizes to suit the needs of your home, they're also burglar-proof and can only be opened from the window.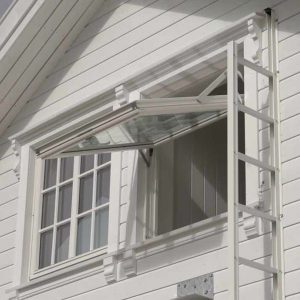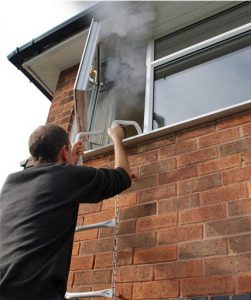 Portable Fire Escape Ladders
Secured by fitting over the window sill when required, you simply then throw the rungs of the ladder out of the window and climb down. Although often referred to as a rope ladder, these are often actually made of nylon and steel, and should be kept within the room you intend to exit through in an emergency.
Although a cheaper and more convenient option, these are far less stable than the permanent alternative and can only be used by one person at a time. Plus, they are designed for one-time use only which means you're unable to practice escaping with them, another benefit of the fold-out fire escape ladder.
For the safety of your whole family, you should consider having an alternative method of escape in preparation for the worst case scenario. Whether you go for the fixed or portable solution should depend on your personal situation and whichever you feel the most comfortable using in an emergency.