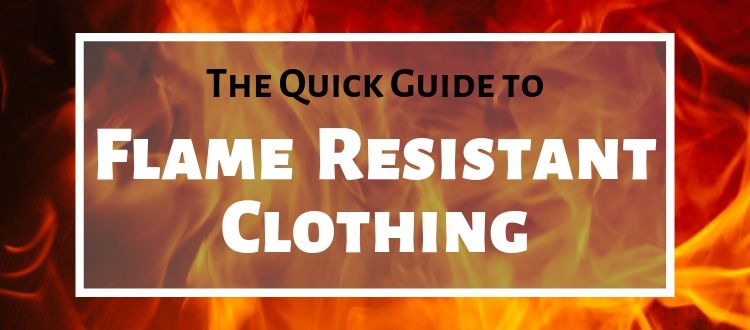 There are many jobs and processes which require you to wear flame resistant clothing to protect you while carrying out hazardous tasks. These come in the form of coveralls, jackets and trousers and are designed for the harshest environments in a range of colours, and can either be worn all day or just when dealing with specific hazards.
With levels of protection varying to your requirements, the garments can protect the wearer from exposure to heat, fire, chemicals, electrical arcs, molten metal splashes and welding processes.
So, What Is Flame Resistant Clothing?
Often referred to as FR clothing, such clothing is primarily designed and engineered so it will not easily catch fire. Even if it were to catch fire, it will naturally extinguish itself. This means that the risk of the wearer suffering a burn is greatly reduced.
Although a rare occurrence, if you were to find yourself suddenly in the middle of a flash fire, an electric arc or some other unexpected thermal problem, flame resistant workwear gives you valuable seconds. It's the difference between being severely injured and escaping unscathed.
As a minimum, FR clothing in the UK should comply with EN ISO 11612:2008 – Protective Clothing to Protect against Heat and Flame. Standard EN ISO 14116:2008 goes further to specify the requirements of limiting fire spread so it burns itself out.
Of course, there is a wide range of other standards you may require flame resistant clothing to conform with, such as those designed for welding and allied processes, high visibility, or protecting against liquid chemicals.
Who Should Wear Flame Resistant Clothing?
If an employee works in environments where heat, fire or electrical injuries are a real possibility, there is a good chance they should be wearing flame resistant clothing. It is the responsibility of the employer to ensure that all workers are sufficiently protected against the variety of hazards that may exist on site.
According to the HSE, between 2010 and 2011, there were over 3,000 burn-related injuries in the workplace, of which three were fatal. Flame resistant clothing significantly reduces the risk and severity of burn injuries, saving lives in the event of an accident.
Although more expensive than standard workwear, the additional benefits of flame resistant clothing are that it needs to be more durable and long-lasting, saving money in the long term. And of course, the knock-on effects of not providing the right garments for the job go a lot further than the physical damage.
Every layer of FR clothing works to protect the wearer. And in order to ensure their clothing complies with the relevant standards, manufacturers have to put their garments through stringent tests.
Flame Resistant? Fire Resistant? Fire Retardant? What's The Difference?
It's easy to assume that these terms are all synonymous with each other, but only 'flame resistant' and 'fire resistant' are interchangeable, and prevent the further spread of fire. They're made of materials which are naturally resistant to flames, and although they may catch fire, they will either self-extinguish or burn extremely slowly.
Fire retardant fabrics and materials will have undergone chemical treatment in order to become flame resistant. Suitable for any type of fabric, it's this process which gives them the properties, rather than being inherent in their structure.
What Is FR Clothing Made Of?
In the UK, flame resistant clothing is usually made of treated cotton. This gives the clothing its hard-wearing properties, whilst remaining comfortable, cost-effective and providing suitable protection.
Of course, that doesn't mean your favourite jumper made of 100% cotton is a suitable replacement. While it is less likely to burn and melt like nylon and polyester, flame resistant clothing will likely have something interwoven throughout, such as carbon fibre, or the weave is pre-treated.
Other materials are also used, with Modacrylic, Nomex and Kevlar being popular choices in America and elsewhere.
How Does Flame Resistant Clothing Work?
FR clothing allows workers to conduct tasks using heat or flame in potentially hazardous locations without greatly increasing their risk of injury.
While no flame resistant is guaranteed to prevent every injury, every time, in every scenario, the risk is greatly reduced by wearing the specialised garments, compared to wearing unsuitable clothing.
For example, clothing which is fire resistant does not mean the garments will never catch fire. They are designed to resist igniting, preventing the fire spreading if it does and quickly burning itself out. It is the self-extinguishing properties which protect the wearer, giving them the time to react which they otherwise wouldn't have had.
How To Choose FR Clothing?
As with any personal protective equipment, your clothing should have a slightly loose fit, but shouldn't hang off your body so much that it is at risk of catching on nearby objects.
When FR clothing is looser, there is an added layer of air between you and garment, providing extra insulation against the heat or flames that you may encounter. If you wear skin-tight flame resistant clothing, the flames will be almost directly up against your skin and give you no room for garment shrinkage as cotton clothing is susceptible too.
But avoid going to the extreme, and buying the baggiest clothing. This is when you can trip yourself up or snag your clothing, potentially ripping the clothing and leaving you vulnerable, or restricting your escape.
With men's and women's styles available, you should take into account your leg and torso measurements to help you find the best fit available.
It also needs to be suitable for the location, whether that's working outdoors in the wet or a job requiring high visibility workwear.
How To Care For Flame Resistant Clothing?
Most FR clothing is machine washable and suitable for tumble drying at home, just like other workwear, and shouldn't cause you any additional bother. Simply launder the clothing in line with the manufacturer's guidelines displayed on the wash label, not exceeding the maximum wash temperature.
In general, it's best to avoid bleach and fabric conditioners to avoid affecting the flame resistant properties of the material. And while you should feel free to wash the clothing as regularly as needed, you should be aware that some workwear, particularly hi-vis, is only guaranteed to provide protection to a maximum number of washes.