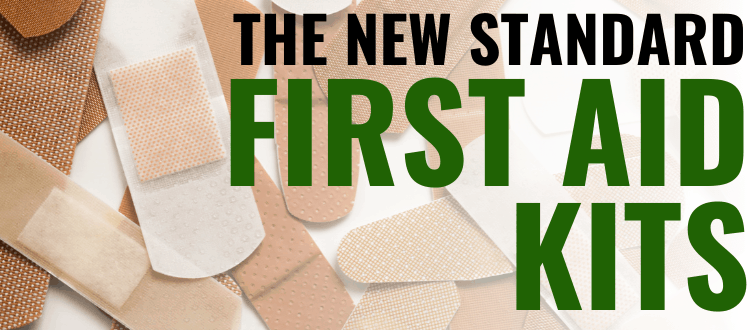 Did you know that first aid regulations have changed?
While the new British Standard 8599-1:2019 doesn't mean that your old kits need replacing immediately, it does mean that you need to ensure any new compliant first aid kit you purchase meets this standard.
Over the last 22 years, the first aid industry has complied with the guidelines as set out in the Health & Safety (First Aid) Regulations Approved Code of Practice 1981. The updated standard recommended a change to the contents of some kits, as well as the creation of new first aid kits.
Which First Aid Kits Have Changed?

The standard workplace kits have been reviewed and amended to suit the modern workplace and its associated risks, and to keep up to date with advancements in first aid product and provision technology.
In any new Workplace First Aid Kit of any size, you'll no longer find safety pins as these have been replaced with additional dressings. Along with bandages, plasters, microporous tape, wipes, resuscitation aid, thermal blanket and other equipment, you're ready for most injuries and minor emergencies.
All you need to do is decide which size first aid kit best suits the size and risk of your business.
Plus, the separate travel and motoring first aid kits were in conflict under the old standard, and as such the standard now recommends the new Travel and Motoring First Aid Kit. This is ideal to have in a company car or work van for an employee who is on the road.
The New First Aid Kits
The group who were tasked with reviewing the previous standard also found the need for two new first aid kits.

The Personal Issue First Aid Kit has been introduced for lone workers. Ideal for first aiders to have on their person always, it is designed for those employed to work in activities away from the workplace such as security, maintenance, cleaning and ground personnel. The version we have available comes supplied in a handy bum bag so it's convenient to access vital first aid equipment in an emergency.
The other new kit now available for sale is the Critical Injury Pack. In situations identified as high risk in risk assessments, the European Resuscitation Council now recommends the supplying of tourniquets and haemostatic dressings. This means it is usually required for anywhere people may work with dangerous machinery and power tools.
The Critical Injury Pack should now be supplementing a workplace first aid kit where there is the likelihood for serious, life-threatening bleeds. This makes it perfect for a range of industries, including agriculture, forestry, construction, woodworking, glass cutting industries, and even the handling of dangerous animals.