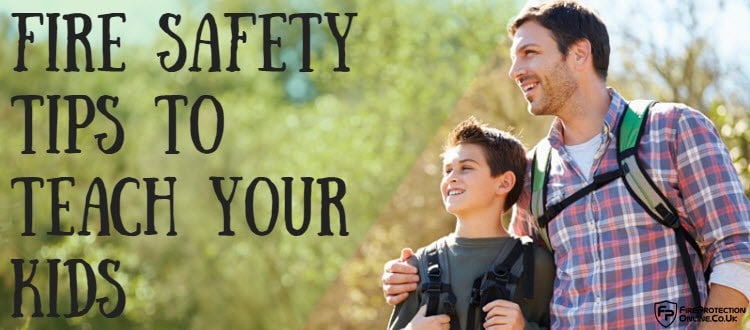 Domestic fires are a significant risk to children. Over 400 children under the age of eleven are injured every year, and four lose their lives in accidental fires.
Sometimes a domestic house fire can start purely by accident. Other times, they are the result of our own actions and mistakes, and sometimes because of a child's natural curiosity.
As parents, we want our children to have fun, but also to stay safe too.
You can help your children by properly educating them on fire safety, as well as familiarising them with what they should do if a fire were ever to break out at home. And when they're aware, they'll help keep you on your toes to ensure you're doing everything right too.
Understanding The Dangers
For whatever reason, children seem fascinated by fire.
It's important that you do everything you can to reduce the hazards in your home:
Child locks for oven doors and knobs, guards in front of fireplaces, turning off electrical appliances at night and using plug guards to cover sockets.
Give clear instructions for certain things they should and should not do. And for children over five, it's a good idea to explain why as well.
Keep matches and lighters out of sight and reach of children, and take care about where you place lighted candles.
Teach children to not poke anything, including fingers, into plug sockets. And ensure they do not play near fires, heaters, or in the kitchen. Do this even when everything is turned off, just to reduce the chances of anything going wrong.
Reacting To An Emergency
Should they ever see, or even suspect, smoke or flames, they need to tell a grown-up straight away.
Show your children the smoke alarms and carbon monoxide detectors in your house. Explain that they are always keeping an eye out for a fire and harmful gas all the time, and will let them know when there is one.
You can also involve them in the process of testing them and changing the batteries.
That will help them become familiar with the sound. But they'll also start to remind you when the alarms need testing. Become accountable to them, and ensure you have enough installed in your home.
However, they also need to understand what it means when they hear the ear-piercing sound, and what they should do. The sound means there's a possible danger, and they must escape straight away.
Fire and smoke can take hold quickly and fill a home within minutes, while carbon monoxide could be inside your home without anyone knowing. Both can be fatal or cause serious injury, so you all need to exit as soon as the alarm has been raised, without hesitation.
The Emergency Action Plan
Sit down together as a family and discuss what you should all do in the event of a fire.
It's important that kids don't go and hide under the bed, in the cupboard, or try to find you. Fires are scary, but that's even more reason to get to safety.
Firstly, teach them how to escape. They need to get as low as possible and crawl their way out. It's easier to breathe in a fire when you're not in the hot, smoky air. And before they open any door, they need to use the back of their hand to test it. If it's hot, fire is likely on the other side and should find another way out.
So not only do you need to decide what the primary exit route is during a fire but have a backup plan as well.
The first route should always be the main route in and out of your home as it is the way everyone is most familiar with. Another route could be the back door into the garden.
With these routes defined, you can then all make sure they are kept clear of obstructions or other mess. Otherwise, it may slow you all down.
It's important to have an assembly point where you can all safely gather once you're out of the house. Perhaps pick the lamppost or tree on the other side of the road? It doesn't matter, so long as you're all together and a safe distance away from danger.
And once they're out, they need to stay out. There's no excuse for going back into the house until told it is safe to do so; not even to rescue the stuffed animal they can't sleep without.
If they find they cannot escape, then tell them to shut themselves in a room with a window, then put bedding and towels in front of the door to stop smoke entering. With the window open, they then need to shout, "HELP, FIRE".
Getting Help
The first thing they need to do is find a phone. This may be at a neighbour's house. They then need to call 999 and ask for the fire and rescue service.
They will also need to give them an address, so you should make sure they know theirs.
When teaching them about dialling 999 to call for any emergency service, you need to also reinforce it's a number they only call in a real emergency.
Stop, Drop And Roll
This is something that's been taught for years, but it still remains the most effective way of putting a fire out when your clothes are on fire.
However, when it comes to practicing, you can make it fun. Just ensure you're still getting across the three main points:
STOP – Running around will actually make the fire worse. Don't panic.
DROP – Get down and lie on the ground as this will make it harder for the fire to spread.
ROLL – Smother the flames by rolling from side to side, and with a heavy material like a coat or blanket.
Practice Makes Perfect
A fire is really scary, no matter how old or young you are. But by rehearsing what you should all do if a fire actually broke out, it will become far more familiar and everyone is less likely to panic. They will know exactly what they need to do.
It will also help to make you aware of problems which may arise. It's much better to realize these things during a practice run than during a fire. It may be that you start keeping the key to the front door a lot closer to it at night.
But you can all give yourselves the best chance by ensuring smoke alarms are all in good working order. That way, they will give you all plenty of warning to get out to safety properly.
Fire safety isn't a one-time thing. Make sure they have remembered and understood what you've taught them. And practice everything from time to time, just to keep it fresh in everyone's memory.
Also, be prepared with torches by your beds so you can see your way out in the dark. And shut doors when you go to bed to help contain a fire, should one start.
Most importantly, reduce the hazards in your home by as much as practically possible. That way, your family are less likely to actually use your emergency plan.
And by properly educating your children, they have a much better chance of staying safe even when they're not at home, and it will set them up for life.
Of course, it's better to be safe than sorry. But hopefully, none of you will have to ever put this knowledge into action.