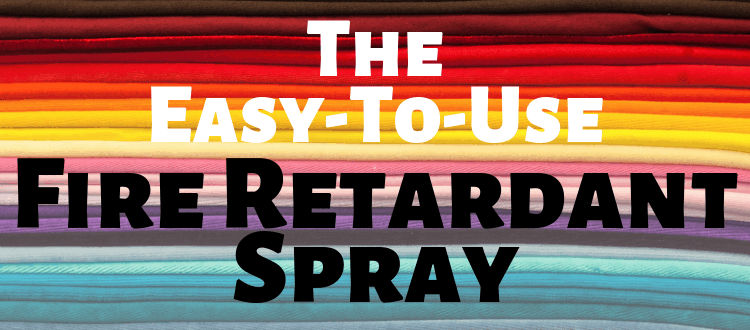 One of our most popular products is the fire retardant spray. This is because it proves to be an effective and easy-to-use method of making absorbent materials around your home or workplace resistant to fire. It's then far harder for flames to take hold.
Requiring no specialist equipment, it's simple to apply this treatment yourself using an ordinary spray bottle. Plus, it's non-toxic, odourless and impossible to see once the liquid has dried and been absorbed.
The fire-retardant spray is commonly used by schools, village halls, and local amateur dramatic societies as it can dramatically reduce the fire risk which wall displays and set designs made of paper and cardboard can bring.
However, there are limitations you should be aware of before purchasing.
What Does The Fire Retardant Spray Work On?
It is designed to make both natural and synthetic absorbent materials fire-retardant. These include fabrics, cardboard, paper, foam, hessian and wood. This means it is ideal for curtains, decorations and other soft furnishings, or even the real pine Christmas tree you bring into your home every year.
While the treatment will last the useful lifetime of the material it is applied to, it will need to be re-applied if the material gets wet. This includes putting fabrics in the washing machine or leaving wood outside in the rain.

However, fire-retardant spray isn't suitable for materials which have been treated, for example, wood which is painted or varnished, and fabric which has a water-resistant coating. This is because it would prevent the liquid from being absorbed and working its magic.
For any material which isn't absorbent, such as plastic or metal, the fire-retardant spray isn't suitable, and as such are probably looking for a specialist fire-retardant paint. In fact, you must be careful while applying the spray as it will tarnish metal, such as fabric staples and curtain rails.
The spray conforms to BS5852:1990 and BS5867: Part 2:1980 which ensures it has undergone strict testing to ensure its effectiveness. However, if you are required to show a certificate of conformity, you will, unfortunately, have to seek out the services of a professional company to complete this on your behalf. This is to ensure it has been applied in accordance with the guidelines.
How Does The Fire-Retardant Spray Work?
A common misconception is that the fire-retardant spray will completely protect the material from fire. While it does prevent the material from catching alight, exacerbating the flames and allowing it to quickly spread, it does still burn.
Once treated, when the material is exposed to heat or flames, it creates a carbonised shield which deflects the heat. This will blacken the material, but most importantly, it makes it much harder for a fire to actually spread, which reduces overall damage and lessens the risk to life. It also gives you extra time to act and extinguish the fire.
Check out the video below for more information and to see how effective the fire-retardant spray is at preventing the spread of a fire.