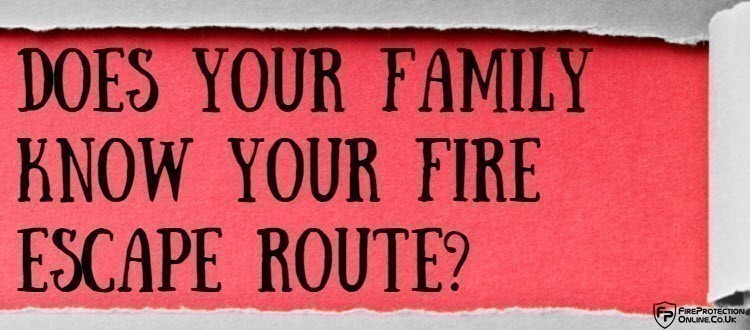 It's something you don't want to think about, I understand. But every family needs to have a fire escape plan.
And by avoiding the issue, you could be putting the lives of those you love most, at risk. In fact, by having a fire escape route which everyone is familiar with, you make it far more likely that everyone will get out safely.
When a major fire is investigated, it is often found that human behaviour played a part in injury or loss of life.
It's common that people react slowly (if at all), and often look to others for a lead as they don't want to be the first to react. It's also commonplace that people underestimate how quickly a fire can spread, and how long it takes to exit the building.
When people are familiar with what they're supposed to do, they are far less likely to panic and will remain calm.
And we have all the information you're going to need to make a plan together.
Planning The Fires Escape Route
It's best to have your main escape route as the usual way in and out of your home. That's because it's the way which everyone is most familiar with and uses every day.
But also, decide on a meeting play, which is usually outside the home. Perhaps pick the streetlight or tree? That way, you know that everyone got out safely.
Everyone will benefit from taking a few moments to practice this. And after all, it's better to discover any issues with it now rather than waiting until it's too late.
For example, make sure everyone knows where keys are, and that they're kept relatively close to the door. You don't want your safe exit to be hindered by something as simple as a locked door.
Teach everyone to crawl out through the house. Hot air and smoke rises, so by staying low, you're staying safe.
Plus remind everyone that they should exit as soon as they become aware of a fire, and not stop to pick up belongings. Then, once they're out, they stay out until it is safe.
And everyone needs to learn to check the heat of a door before opening it when they suspect a fire. If it's hot, then it's likely that fire is on the other side and should not open the door.
Also, do your part and ensure the exit route isn't cluttered with toys, boxes, bikes, or anything else. You don't want anything to slow you down nor trip you up, so ensure the route is free of obstruction.
But it is important that you plan for the worst-case scenario: Your exit route being blocked by fire.
Plan B
You need to also have a second route of exit planned as well, just in case. And when everyone is aware of what it is, they can swiftly make their exit via a different route, rather than panicking.
It could be that you're downstairs, which means you just leave the house via the back door instead. Or you may be able to simply climb out of a ground floor window.
When you're trapped upstairs, then that makes it a lot harder. Making your exit out of a window is a lot more dangerous.
Unless you have a fire escape ladder, of course.
This hooks over the window sill or ledge, and then allows for everyone to climb down to safety.
These can store away discreetly, so you can hide them in the bedrooms so they're ready when you need them. Just make sure other people also know where to find them.
But you do need to practice this second route. In fact, it's perhaps more necessary because it'll be the one you're less familiar with.
As an example, you don't want to be desperately trying to work out how the fire ladder works when your frightened family is waiting. So take some time to read the instructions, and then try putting it in place in your own time.
Home Essentials
Fitting smoke alarms in your home is of the utmost importance. They are what will alert you early to the existence of a fire. That then gives you the time to react before the fire escalates in seriousness.
As a bare minimum, you need to have one on every floor of the home. But for better coverage, you should definitely try to have them installed in the rooms your family spends the most time. This may include the living room, dining room, and bedrooms.
Plus having a small extinguisher and fire blanket in the house means you can take immediate action to fight a small fire before it threatens your home and family.
But you can also help to prevent the likelihood of a fire by educating your family. Simple things like turning off electrical equipment before you go to sleep, and not storing items too close to heaters, are easy measures you can take.
Preparing for the worse doesn't take much time or effort, but it will keep you safe. So don't put it off, and plan your fire escape route with your family today.