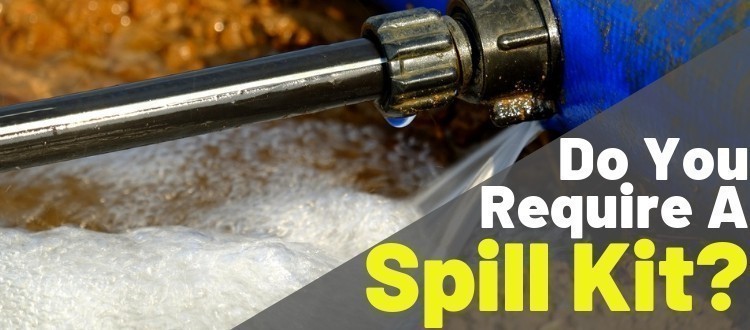 Essential in many workplaces, especially those storing and handling hazardous or large amounts of liquid, having a spill kit on site will prepare you for any emergency. These facilitate easy and effective cleanup.
Despite your best efforts to follow good working practices, the risk of a spill or leak is always going to exist. As such, the law dictates that you must ensure you have adequate facilities to contain the liquid and protect the environment from contamination.
Spill kits are available in different sizes, and are designed to counter different liquid risks including oils, chemicals, solvents and water.
Each kit will feature everything you need to safely handle liquid in an emergency. While the socks prevent the spill from spreading and contain it to one area, the absorbent pads and pillows will draw up the liquids, thus making it easy to clean up. Once finished, everything should then be placed within the supplied container or waste bag so you can dispose of it responsibly.
What Size of Spill Kit Do I Need?
The size of kit you require depends on the volume of liquid you may need to absorb if the worst were to happen. These can range from a small 15 litres to an extreme 900 litres, with a whole range of sizes in between.
For a small garage, perhaps storing only small quantities of oil or solvents, then a 20-litre spill kit should be enough to clear and contain a leak from an old rusty car, or knocked-over oil can.
Medium to large spill kits—90 litres and bigger—are for industrial locations where potentially large volumes of liquid are present. Enabling compliance with the EA/SEPA/NIEA guidelines (PPG26), these will feature everything you need to tackle a large emergency and to prevent an environmental disaster.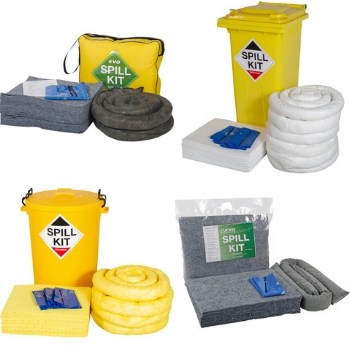 Which Spill Kit Should I Have?
It's essential that you select the correct spill kit for the application they'll be used on to ensure they're effective, and in some instances, you may require multiple kits.
The EVO spill kit is the most common choice, being the universal and environmentally-friendly option which is used in most situations. Made of recycled cotton fibres, these are 25% more absorbent than standard pads, with an ultra-low carbon footprint. They are designed for absorbing hydraulic oil, lubricating oil, engine oil, solvents, coolant and antifreeze.
A general purpose spill kit is best suited for absorbing coolant, antifreeze, oil, water, weak chemicals, and solvents, while the chemical spill kit is designed for safely absorbing acids, alkalis, strong chemicals, and solvents, although is not suitable for use on oxidisers.
The oil and fuel spill kit is the ideal choice for absorbing hydraulic oil, engine oil, lubricating oil, and solvents, and as it will not absorb water, can be used on the water in marinas and rivers.
Other options are also available for hazardous spills, such as petrol and diesel which are flammable, and biohazard risks including blood and other bodily fluids.
Spill Control and Preparation
You need to ensure a spill kit is positioned in a prime position, where everyone knows exactly where to find it and close to the main risk so it can be grabbed quickly in an emergency. This is vital because liquid can quickly spread, meaning immediate action is essential to contain and reduce the risk.
The equipment provided should be regularly checked to ensure it is fully stocked for such an emergency, with training given to those working in the area so they know how to handle a spill situation. Additionally, it is good practice to install signs and posters to provide a helpful reminder.