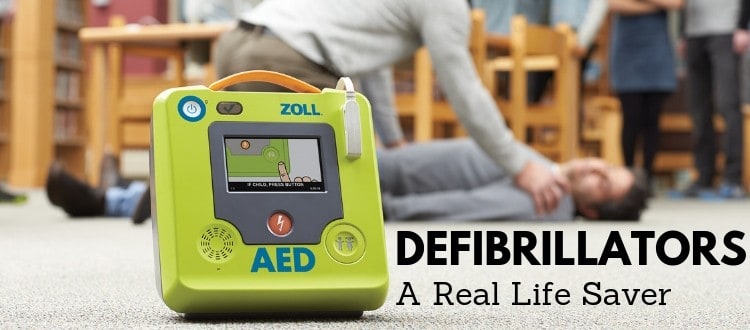 Once something you'd only see in a hospital if you were unlucky, defibrillators are now widely available within the community and are so simple to use that you don't need to have first aid training to use them.
Community defibrillators are available in supermarkets, sports centres, schools, colleges, construction sites, large businesses and many other locations. In fact, some are even located in disused telephone boxes to give them a new life too.
You should make a point of finding your nearest defibrillators by looking on the HeartSafe AED Locations map here, for your home and work.
Why Are Public Access Defibrillators Important?
When you suspect that someone is suffering from cardiac arrest, then every second really does count. As the heart stops pumping blood, within minutes the brain is starved of oxygen which soon causes permanent brain damage, and without treatment will be fatal.
You cannot afford to wait for a paramedic to attend.
In some instances, ventricular fibrillation (VF) can be corrected by giving an electric shock using a defibrillator. However, giving immediate CPR will keep oxygen circulating around the body until a defibrillator can be used and/or until the emergency services arrive. This can help to prevent death and reduces the risk of brain damage.
What's The Difference between a Cardiac Arrest and a Heart Attack?
People often think that a cardiac arrest and a heart attack are the same things, but this isn't true. The British Heart Foundation says:
"A heart attack happens when blood supplying the heart muscle is cut off due to a clot in one of the coronary arteries. This can cause chest pain, although symptoms can be less severe, and can permanently damage the heart. The heart is still sending blood to the body and the person will be conscious and breathing. A person having a heart attack has a high risk of experiencing a cardiac arrest.
"A cardiac arrest occurs when the heart suddenly stops pumping blood around the body, often because of a problem with the electrical signals to the heart muscle. Someone who is having a cardiac arrest will suddenly collapse and will stop breathing."
How Do Defibrillators Work?
First of all, in the UK you should dial 999 to request emergency assistance.
While the prospect of using a defibrillator is scary—especially when you consider you're most likely to need it to save a loved one's life—you really cannot do anything wrong. However, those who have used them often say how easy it was to use in an emergency.
Automated External Defibrillators (AEDs) are designed to assist you through every stage of providing emergency assistance. This includes checking responsiveness, opening the airway, checking their breath, attaching the defib pads to the patient's bare chest, supplying the shock, then starting and continuing CPR.
With the pads on the patient, the defibrillator will first analyse the heart rhythm and will only allow you to administer the shock if it recognises that the heart is in cardiac arrest.
Even when it comes to the CPR, some defibrillators will help to keep a consistent rhythm and ensure you push hard enough when giving chest compressions with real-time feedback on the display. This is because the quality of the CPR given is essential for it to work.
Should I Purchase A Defibrillator?
Defibrillators are expensive pieces of equipment and are not something you're going to purchase for the home. However, many communities are crowdfunding for a local defibrillator and large organisations are purchasing them for their staff, visitors and the wider community.
It's important to remember that AEDs also need maintaining. Batteries and pads must be replaced according to the manufacturer's guidelines. This can range from every eighteen months to five years.
At Fire Protection Online, we recommend the ZOLL range.
Why Choose A ZOLL Defibrillator?
A smart investment thanks to the low total cost of ownership, pads and batteries for ZOLL AEDs only need replacing every five years (or when used).
ZOLL is an American company founded by Paul Zoll, M.D. who was the inventor of heart pacemaker technology and was the first person to externally defibrillate a heart. Plus, many ambulances in the UK are equipped with a ZOLL defibrillator. Who better then to buy your defibrillator from?
Each unit is made in Boston, USA, and ZOLL is the only manufacturer to individually test each defibrillator which they produce. The defibrillators also carry out an automatic self-test to assure they are in a constant state of readiness.