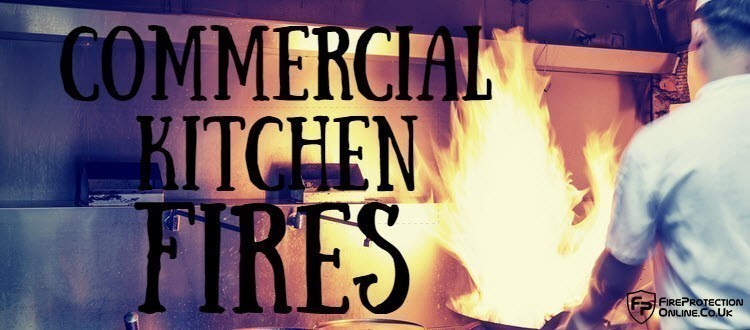 We British love our fish and chips, and for many there is nothing like the gentle bubble of batter-covered fish bubbling in oil. However, our love of deep-fried foods means that cooking oils and fat fires are a constant hazard in both commercial kitchens and workplace canteens. It is vital that specialist wet chemical fire extinguishers are provided to deal with any potential fire incidents involving fats and cooking oils, along with fire blankets for smaller spills.
Class F Fires: The Cook's Nightmare
Class F fires involve any cooking oil or fat, whether it be rapeseed, palm, vegetable, sunflower or olive oil and the risk of fat and oil fires should be minimised by regular cleaning and oil-changing procedures, as well as effective extraction equipment.
All Class F fire extinguishers must conform to British Standard BS7937, and for fat friers that hold more than three litres of oil, you must have a Class F wet chemical fire extinguisher on hand in your premises as a legal requirement of the Regulatory Reform (Fire Safety) Order 2005. (Larger commercial installations may also require a fixed fire system such as an "Ansul" or "Amerex" fire system)
Class F Fire Extinguishers: Special Extinguishers For A Special Job 
Fat fires run very hot, and standard fire extinguishers are not only unsuitable but also dangerous to use on a fat fire. Class F fires should ONLY be extinguished using a wet chemical fire extinguisher containing potassium salts, which not only cool the flames but also form a "saponification" blanket that effectively smothers the flames with a thick, soapy foam.
Chubb's Fryfighter, for example, is a popular brand of Class F fire extinguisher although this is also sold via their sister company, Thomas Glover & Co generally at much lower prices.
As with all fire extinguishers, your Class F fat fire extinguisher should be clearly marked with a British Standards Institute or BSI standard of BS EN3, a BS (BSI) Kitemark, indicating BAFE (British Approval for Fire Equipment) approval and a CE stamp. It will be bright red in colour, with a bright yellow label above the instructions panel for easy identification.
Commercial Kitchen Fire Risks And Your Insurance Company 
Many insurance companies not only insist that a Class F wet chemical fire extinguisher be in place within easy reach of any deep fat frying equipment, but also that it be regularly maintained under a contract. A fire extinguisher replacement service will ensure that all these important extinguishers are fully operational and ready for use.
Commercial Kitchen Fires: Not Worth The Risk 
If you have any doubts about the function or condition of any fire extinguisher, it is often cheaper and easier to replace it than to service it. In a busy kitchen, fire extinguishers may be exposed to more environmental wear and tear than in other locations, and a straight replacement is quick and easy, without the worry of the costs of spare parts.
There is, of course, another risk that's never worth taking. If in doubt over whether to tackle a fire, don't stop to think, get everybody out and call the Fire Brigade immediately.